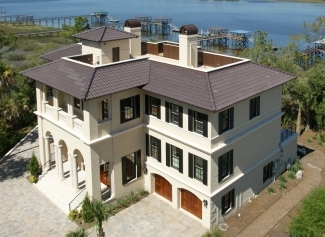 Are looking into ways to make your home more energy efficient, durable or builder friendly? TF System, one of the concrete wall forms, we offer for home owners.
Why you will love your new home built on TF System, an ICF product.
Energy Efficient
As a home owner, you want the best out of your home. You want the best for your home and family because you've invested in it. Using insulated concrete wall forms for your home will use significantly less energy to heat and cool than a typical wood frame home. It's estimated at 40 percent less for heating and 30 percent less for cooling during the hot summer days.
What exactly does this mean for the home owner? It means that the home owner will save money. Who doesn't like saving money? Incorporating concrete wall forms from TF will provide the indoor environment that is livable with ambient temperatures and prevents any contamination to enter your home.
Being an energy efficient home, it will allow your house to be friendlier to the environment and will benefit your living situations, and help the planet.
Durability
Between a typical frame residential home compared to the concrete wall forms, the concrete walls offer better strength and durability for your home. The strength that these concrete wall forms provides exceeds the conventional construction. ICF can stand high winds, cracks, rust, mildew, and vibrations from doors closing and dramatic climate and weather.
One great feature that concrete walls provides is the materials used that won't allow insects, mold or rodents to grow and live inside the wall. Since the walls are dense, it helps cut out the sounds from the outside to the inside. With TF Systems, your home and family will feel secure.
Builder Friendly
Building a home can be daunting because of the process. With TF, it makes the designing portion and job easier and faster to learn. It creates a faster and easier pace because of the less equipment that needs to be involved, fewer pieces, more versatility, and streamlined construction that makes it an easier process.
If you are a contractor, TF makes the construction process run more smoothly. When you're using the TF insulated concrete forms, you're receiving quality results!
Connect with Greenline Insulated Concrete Forms on Facebook and Twitter to learn more about our ICF products and swimming pools moving into warmer weather!