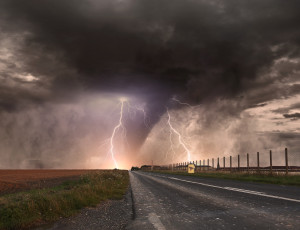 Spring is the ultimate season for tornadoes in Oklahoma and surrounding states. With heavy winds and severe storms, having a durable home and place to stay safe is key. Along with an ICF home, here are some measures to take in order to protect your home from tornadoes.
Are your doors able to withstand a strong storm?
Exterior doors are made to protect anything from coming into your home. A study was done at Texas Tech with testing a variety of doors that stimulates EF5 tornado conditions. The test was to see what doors were able to handle the wind-pressure and survive through it. The doors tested are intended for safe rooms and shelters, but can also be utilized within the main entrance to your home.
Is your garage door up to par?
The National Storm Shelter Association has stated that garage doors are the weakest link in a home. Garage doors without windows are to be safer and provide resistance up to 50 pounds per square foot. Once you've lost your garage doors, your home may as well be lost too because everything continues to fall apart such as a domino effect.
Roofing is the first thing people worry about. How is your roof attached?
When you're experiencing severe weather conditions such as a tornado, your roof is experiencing various wind patterns. The wind patterns blow over your home at an inward pressure that is against the windward wall, with an outward pressure against the sidewalls, which all blows the pressure back towards the roof. With winds that are so extreme, the pressure can rip through anything that isn't connected properly. Having a secure roofing system that doesn't come apart, your home won't fall apart either.
How old are your windows?
Having older windows isn't the best thing to have during severe weather conditions. Most people believe that cracking the window will release the pressure against the winds, but will actually make your home pressurized, which isn't good at all. One product to keep your home safe and tight from any air leaks or pressure entering your home is InsulBuck. InsulBuck is the alternative window solutions that creates for an ICF home, and protects your home at the same time.
How is the structure of your home?
The strongest wall structure to withstand a tornado tragedy are insulated concrete forms. ICF homes and products are made from solid concrete with the assistance of foam/ polystyrene and iron rods within the walls for extra support and safety. The concrete walls can be the savior to a home during a tornado.
If you're looking into building with ICF products to create an energy efficient environment and safe home, ICF homes can protect against winds, weather, bugs, rodents, and more!
Connect with Greenline Insulated Forms on Facebook and Twitter to learn more about our ICF homes and other products.