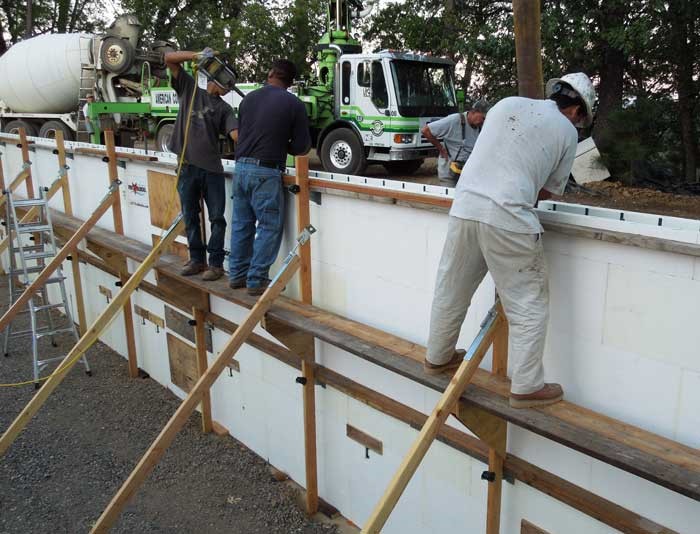 Green living is a way of life. Building a new home or adding onto a preexisting home with green replacements is a huge bonus for your home. We have three new products to incorporate with insulated concrete forms and a green home.
These three products assist with the green building with the insulated concrete forms.
Fastfoot
Fastfoot is made from a high density polyethylene fabric. It's a green replacement of lumber and plywood that helps form concrete footings. To compare, a 100 foot roll of Fastfoot forms is the same concrete as 1,500 pounds of lumber.
The great part about Fastfoot is that is come printed in three different colors. The different colors helps for easy reference of footing width lines and QR codes for onsite reference when installing. Whether you're building residential or commercial, Fastfoot is the ideal stripping for the footings and pad edgings.
Fast-Tube
Opposite from Fastfoot and the material it's made out of, Fast-Tube is a softer fabric. This soft fabric is a column that forms around the concrete columns for protection. Although this fabric is soft, it's manufactured from high strength polyethylene that comes in diameters of 8", 10" and 12". The stripping and pouring make this for an easy install.
As for sustainable advantages by using Fast-Tube are:
-You'll have no left-over waste (cutting from any length of 100' roll)
-It ships flat with 1% of the space being cardboard tubes
-It's light weight with 10% of the weight being cardboard tubes
-It strips in seconds
-It can be recycled as under slab membrane
-It won't get damaged by rain or moisture
Fab Form Monopour
Fab Form Monopour includes a drill adjustable with side supports. It displays pairs of side supports that are screwed to the internal plastic web of the ICF block in the center. An electric drill and extended driver are used to quickly adjust the wall height. It incorporates a flange that is made of solid 10 gauge steel with metal tabs that connects with the bottom of the ICF web. This prevents it from sliding up the block.
With any installation comes a process, which Fab Form Monopour has a seven step process.
We'll convert the drawings into 3D foundation components displaying the exact dimensions.
We will prepare the working drawings and have you approve them.
Upon approval, we'll send the side supports, Fastfoot and Zont bracing.
Either off site or on site you'll glue the ICF blocks into the components.
After that, you'll attach the side supports as detailed in the drawings.
Next, the Fastfoot will be attached to the bottom edges of each component.
Finally, you'll assemble and brace all of the components using the Zont Bracing System.
Insulated concrete forms doesn't only make your home more stable, it provides the green effect you're looking for in order to save on cooling costs, heating costs and energy costs.
Connect with us on Facebook and Twitter to see our other products used for ICF homes and more.