ICF (Insulated Concrete Forms)
WHAT IS INSULATED CONCRETE BUILDING SYSTEM?
Insulated Concrete Forms (ICFs) are a stay-in-place concrete forming product that serves as a functional part of the wall after the concrete is poured. The Panel System ICF consists of two main components: high-density polystyrene panels and structural frames. On or off site, these components are assembled as concrete wall forms. When filled with concrete, they form solid, energy efficient walls to create a high performance structure. ICF is used to construct frost walls, basements, and above grade walls, in both residential and commercial construction.
WHY CHOOSE OUR ICF SYSTEM?
Panel construction eliminates the possibility of wall form floating and settling, providing a wall that is dimensionally accurate. There is no need for gluing, taping, or tying components together, making assembly simple and efficient. Our ICF System components form the walls, provide insulation, create a vapor barrier, and service as convenient and predictable attachment points, all in one easy step. Using this unique design differentiates innovative professionals in the building industry, while providing the competitive edge they desire.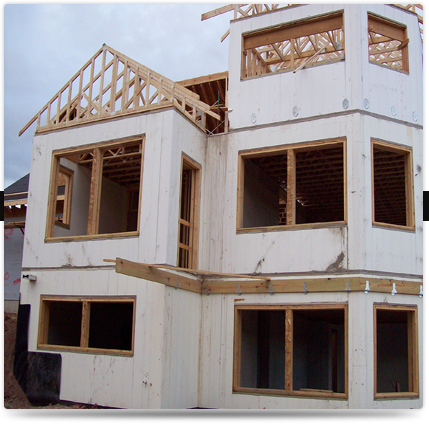 WHY BUILD WITH ICF CONSTRUCTION?
An ICF home is a legacy home lasting 100-500 years. While ICF construction costs about the same as 2X6 framing, smaller heating and cooling equipment required and monthly utility bills are 30%-45% lower. Your new home will have a smaller carbon footprint and an average of 40 fewer trees are used in the construction of an ICF home.
WHY USE PANEL ICF SYSTEMS?
With only four components the system is easy to learn and goes up much like conventional concrete forms (but they weigh a lot less, so they are not nearly as difficult to handle and erect). By the second day crews are experts at building this system. With some experience a Panel System ICF home will go up in 30% less time than the other ICF block systems.
Panel System walls are stronger, made from denser Styrofoam that require about half the bracing of other ICF Systems. The walls can be built more than 10 feet tall and poured in one pour. Access to the interior wall by building code inspectors, to retrieve dropped tools or to complete installation of the rebar is quick and easy by raising one or more panels in the form.
Does ICF limit what style or type of home I want to build?
ICF can be used for any style of construction and plans do not have to be drawn for ICF to be used. One popular site to visit for plans is HousePlansandMore to see their ICF homes under advanced search select ICF, but don't let that stop you from look at all of their plans or plans drawn by other companies. If you are using an architect we would be happy to assist in any way we can.
Home  |  Products  |  Contractors & Architects  |  FAQ's  |  Blog  |  About  |  Contact