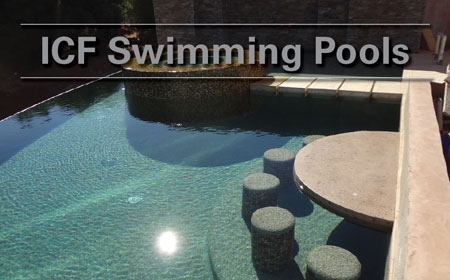 GET THE MOST OUT OF YOUR INVESTMENT WITH AN INSULATED POOL
ICF swimming pools are a superior construction method for in ground, partial in ground or above ground Pools. Our pools are built with an R27 insulated wall to hold the heat of the water in the pool rather than heating the soil around the pool. This allows the pool to warm up earlier in the spring and stay warmer later into the fall and if a heater is used the cost of fuel is dramatically reduced.
With ICF construction radiant heating is a natural selection and if radiant heating is being used in the home the pool may be able to use the same heating system. In addition to lower heating costs swimming pools constructed from ICF are more economical to build than gunite pools. Construction time is about the same but the quality of the finished pool is much higher adding value to the home .
Installation: We have qualified contractors available to install all of the products we sell. If you are an owner wanting to install our ICF system we provide on site training at no charge. If you are a contractor looking to add ICF to your products offered we will provide training at no charge.
Home  |  Products  |  Contractors & Architects  |  FAQ's  |  Blog  |  About  |  Contact